High-pressure water jet cutting
The basis of this material cutting method is the abrasion of the split material by the pressure of the water jet. The working pressure of the water varies from 800 to 4100 Bar. The pressure source is special high-pressure pumps, which differ in power consumption (9 - 75 kW) and water flow (1.2 -7.6 l/min).
The beam is formed in the cutting head ended with a nozzle. When processing mild materials, clean water jet is used, for other cases there is a need of an abrasive beam. A suitable admixture is natural olivine or garnet - abrasive selected according to the hardness of the cut material. The movement of the cutting head and thus the entire cutting path is controlled by a computer according to a pre-assembled program.
It is also possible to make shape-complex cuts in one operation. The standard cut-out accuracy is ± 0.2 mm/m. The split material is not force-stressed. The cutting edge is not thermally affected, it is always a cold cut. This fact is very important and also decisively distinguishes the water jet from other technologies for cutting materials, especially laser and microplasma.
After the cut is made, the mixture of water and abrasive is collected in the trap (bath), located under the cut material.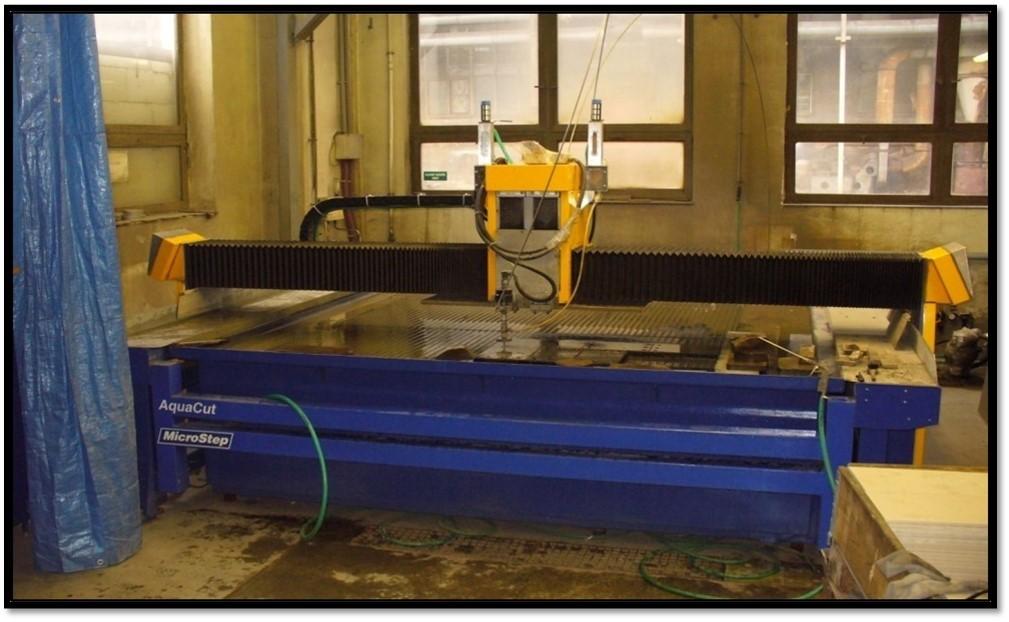 Technical parameters of the cutting workplace
thickness of the split material from 0.1 to 200 mm
two workplaces with table area 3000 x 2000 mm and 2000 x 1000 mm
loading area with a capacity of 2000 kg
standard cut-out accuracy is ± 0.2 mm/m
the width of the cutting joint (beam diameter) when using abrasive is approximately 1.2 mm
Advantages of waterjet cutting
cold cut, there is no thermal influence on the cut material and thus no changes in the structure
minimal force action of the beam on the cut material – there is no microcracks.
versatility – cuts almost all materials. It is possible to cut materials very difficult to divide and otherwise unworkable materials
the cut is without burrs, usually there is no need for subsequent processing, deburring and chamfering of sharp edges
possibility of performing even the most complex shapes in a single operation, including holes and grooves
high utilization of the semi-finished product can be achieved thanks to the small beam diameter and the possibility of folding multiple shapes on one semi-finished product do not create harmful emissions into the air and there is no chemical effect on the cut material
Examples of split materials
structural steel, alloyed, heat-treated, weld-on with extreme hardness
alloys of aluminum, titanium, copper, nickel, etc.
fiberglass, composites, technical and advertising plastics
marble, granite, sandstone, paving
glass, plexiglass
electrical and thermal insulation composites
sealing and foaming materials, expanded graphite
floor coverings, plywood, balsa