Material cutting with oxygen acetylene flame
This technology is suitable for thicker materials. The principle is to heat the metal to the temperature of combustion and burn it in the stream of oxygen. By burning, heat is released, which preheats the next place of the cut. To heat the metal, oxygen acetylene flame is most often used. If the burner moves relative to the workpiece, a cutting gap is formed. The cutting burners have 3 valves – two regulate the supply of acetylene and oxygen to the heating flame, the third valve controls the supply of cutting oxygen. To achieve a regular, smooth and narrow cut, it is necessary to guide the burner evenly and at a constant height above the cutting material. Mild steels, which contain carbon at a concentration of about 0.3%, can be cut by flame very effectively.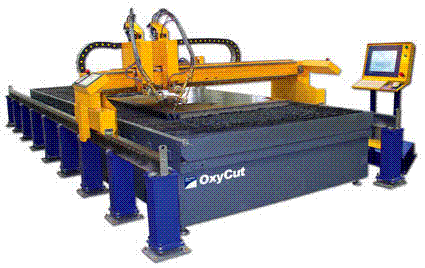 The tables are designed for cutting metal materials with flame. The machine is designed to allow cutting steel up to 200 mm thickness. Machines of this type have a high gantry structure with separate side guides from the extracted material table.
The machine uses high-quality BOSCH linear guides, which guarantee long-term accuracy. A maximum of 4 trolleys with saddles can be placed on the portal of the machine, with the first one having a transverse axis drive and towing the other trolleys with it. The extracted material table is of modular construction.
Technical parameters of the cutting workplace:
thickness of material up to 160 mm
working area 4000 x 2000 mm
product accuracy ± 1 to 3 mm
Control system
The MSNC 500P multiprocessor system consists of two independent technological PC modules, a 15" color touch monitor and a foil keyboard. The system is equipped with the possibility of serial connection and monitoring of production via Internet.